Navigation Toolbar

Selection Mode
Selection mode may be "Standard" and "Live", "Rectangular", "Circular". Learn more about navigation and selection.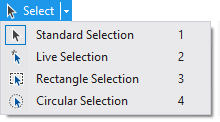 3D Editor

Click on one of these buttons to activate Move, Rotate, Scale, Move Pivot tool.
Axis and Coordinate System

Toggle individual axis ( X, Y, Z)to allow position, rotation, scale along these axis. Learn more.
See Also